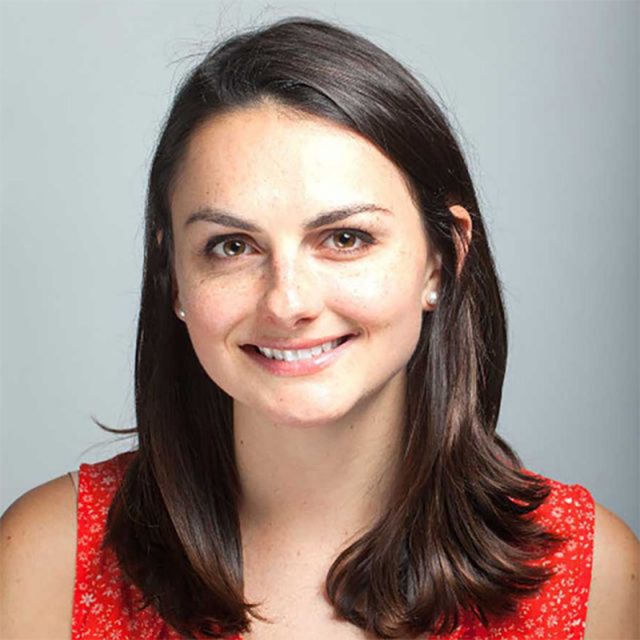 About Jenny
Our recent Alumna, Jenny Walker, Ph.D., earned her B.S. in Bioengineering at Rice University and in March 2021 she earned her Ph.D. in Mechanical Engineering and Ph.D. Emphasis in Bioengineering at UCSB. Her main area of research is in Bioengineering and Mechanical Engineering and her research interest is in biodevices. In March 2021 she started her position as a Senior Microfluidics Engineer working at Draper Labs in Cambridge, MA.
Why UCSB?
I had interned in Dr. Kimberly Foster's MEMS lab while an undergrad and was excited to come to UCSB and be a part of her lab as a graduate student. The project I was coming to join was a collaboration between 3 UCSB PIs and a local biotech company, Owl biomedical. I knew I wanted to work in industry after graduate school so having an industry affiliated project seemed like a great opportunity. Also, I had interned at Owl as an undergraduate and knew I really liked the technology and the people.
Why Mechanical Engineering? 
Pragmatically, because UCSB didn't have a Bioengineering graduate program. There was a MEMS component to my research, though, and I wanted more formal training in that area. 
Why Optional Ph.D. Bioengineering Emphasis? 
It was fairly seamless to incorporate the BioE emphasis into the mechanical engineering PhD, as Bioengineering was already one of my two focuses. Aside from that, it was a great way to get to know more people around campus. Because there was no formal BioE graduate program, the seminar series and classes would draw a lot of students from different disciplines. Coming from a very small graduate cohort and even smaller lab, it was a great way to meet new people and feel more connected to UCSB. One quarter, the seminar series was hosting faculty applicants for the mechanical engineering department. It was especially interesting to hear their proposals for future research and questions asked by the UCSB faculty in the audience.
What were your highlights of the Optional Ph.D. Bioengineering Emphasis?
Forming the BMES Student Chapter and organizing the Biotechnology Industry Showcase. Being involved in the Biotechnology Industry Showcase is how I got my current job!
How did you get from networking at the Bioengineering Industry Showcase to interviewing and getting a position at Draper? 
As a 3rd year graduate student, I helped organize the 2019 Bioengineering Industry Showcase (BIS). Our Early Career Keynote speaker was Dr. Vishal Tandon of Draper Labs which was a company I knew only in the context of MEMS and defense projects, not bioengineering. After Dr. Tandon presented on his microfluidic drug delivery project, though, I kept Draper in my radar for my eventual job hunt.
At the start of my 5th year, I saw that Draper had an open position for someone with a Ph.D. in Bioengineering and 0 years of experience. I was only a few months from defending so I submitted my resume through the company website but then I also emailed Dr. Tandon to let him know and hopefully re-ignite that connection from BIS 2 years earlier.  He responded quickly and we had a video call where he explained that the position had already been filled but that I'd be a great fit for the company so he would keep me in mind if another position came up. A few months later he reached out again and asked if I was still available and quickly scheduled me into the formal interview process. He also sent me 15 papers to understand the projects Draper had been working on recently. 
What was the interview process like?
Because of COVID-19, all of my interviews were on Zoom or WebEx. This was wonderful because I was mostly interviewing with companies in San Francisco and Boston and never had to leave Santa Barbara.  
The interview process starts with a quick call with an HR person or the hiring manager who wants to get a feel for you, double check aspects of your resume, and make sure you are still available for a position if they do wind up wanting to move forward with you. They then schedule a day or two for the formal interview. The formal interview usually starts with your technical presentation, for me this was my defense presentation. Then every 30-45 minutes your rotate through interviews with 1-2 people from different projects or departments. Again, this takes 1-2 days with maybe 10 minutes for a break so it's a real marathon.
For some companies, they had very organized assessments while others it was just continuing the conversation about my technical talk, filling me in on their role at the company, their projects, and letting me ask any questions I might have. I prioritized a lot of my questions around the company culture, how I'd be supported towards success, and how setbacks were treated.
How is it going in your new position? 
I love it! It's actually not that technically different from what I was doing in lab back at UCSB, but without the stress of grad school it all feels quite different. Also, working on multiple projects across a few teams really keeps me on my toes.
What tips do you have for students networking at events such as the Bioengineering Industry Showcase?

Be confident, outgoing, and ask questions. I really pushed myself to do a ton of informal interviews and they gave me much more awareness of industry. This helped me have more specific questions to ask at networking events which can lead to real conversations and connections. 
Also, we all know that networking is important, but it's still not a guarantee. It felt more like lightning striking, when a company had an opening that was right for me and fit well with my academic timeline. To deal with this, I tried to keep as many irons in the fire at a time so that my odds were higher. This did result in one stressful week when I had 4 formal interviews, though. 
How should students prepare for a networking event? 
Identify who you want to talk to ahead of time. Look up their professional history on LinkedIn, note any similarities you have, and questions. Also, know that their first question will be asking what you do, so have a concise and catchy statement prepared that you can say with a lot of confidence. 
Why and how did you choose your Area of Research? 
I was in a tissue engineering research lab in undergrad and really enjoyed the translational element, but I also wanted to explore the biodevice area which is what led me to my internship in the Foster MEMS lab. I found that I really appreciated the controllable aspect of mechanical engineering research and love combining it with endless exciting applications of biological research. 
I really like learning new skills which makes bioengineering such a fun area of research. It seems like there are endless technologies that each have their own pros and cons depending on the questions you are asking. 
Tips for those interested in research? 
Try to work in multiple research labs. There is so much benefit to seeing how different labs operate and it will inevitably expose you to more tools for your research toolbox. Also, your research is only as good as it is received. Before presenting your data, try to view it from the audience's perspective and ask yourself constantly "have I just lost my audience?".
What are your favorite things about the following? 
Hobbies:
Running, Cooking, and Painting. 
UCSB:
The Sunsets.
Santa Barbara: Being able to bike up a mountain, lay on the beach, and go wine tasting all on the same day.